About Coolermods
Coolermods Facility - Denver, CO.

It all started with the steering strengthener, a part we made to correct the sloppy front end on the Cruzin Cooler. A simple part, but not so simple to make. With no major plastics supplier in NYC (Can you believe this???), we would ship in plastics from Denver, CO to NY, fabricate the parts by hand in our tiny shop, then ship them to Orlando, FL for testing. This is where we started.
Today Coolermods operates a 5000 sq ft facility in Denver, CO. Complete with CNC Machines (Computer Controlled Cutting Machines), a lathe, milling machine, and full machine shop, we can fabricate most all products in-house. Our FATTY front ends have become a "must-have" for every Cruzin Cooler.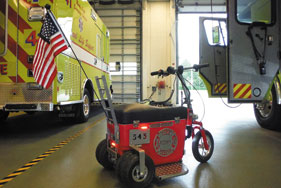 9/11 Theme Cooler in RCFD - Orlando, FL

Theme Coolers have become a big part of our business. Ranging in price from $4,000 to over $15,000, we have designed and fabricated theme coolers for national companies, Celebs, and causes important to us. The 9/11 theme cooler I would say is the most important and most extensive theme cooler we have ever made, and its not for sale. When not at shows or benefits, it sits on display in our lobby. Check out more theme coolers on the theme coolers section.
We welcome guests. If your in the Denver, CO area let us know your coming a week in advance or so, and we can grab luch, talk about coolers, and show you the shop.
Quality, Price, Fast Delivery, and the best customer service in the industry!
Thank you from all of us to all of you for making Coolermods what we are today!!
Dunarri Coolermods: 720-443-3231